Playing the Field: Video Games and American Studies
Conference at the Amerikahaus Munich, April 26-29, 2018

The conference is open to the public. There is no conference fee. All are welcome!
Sponsored by: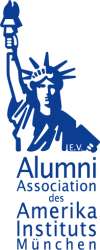 Program
Thursday, April 26
19:00 Keynote, Mark J. P. Wolf (Concordia University Wisconsin)
"Video Games and the American Cultural Context"
Friday, April 27
9:00 Coffee
9:30 Randi Gunzenhäuser (Dortmund)
"Computer Game Studies—an Undercover Success Story?"
10:30 Coffee
11:00 Michael Fuchs (Graz)
"The Right to the Digital City: Hacking the Surveillance State as Urban Practice in Watch_Dogs"
11:30 Stefan Rabitsch (Graz)
"'A Last Chance for Redemption': BioShocking the American City of Futurity at the Fin de Siècle"
12:00 Lunch
14:00 Martin Lüthe (Berlin)
"Bend it like Baggio: Digital Soccer and Another 'Other American Exceptionalism'"
14:30 Sebastian Domsch (Greifswald)
"Strategies against Structure: Video Game Terrorism as the Ultimate American Agency Narrative"
15:00 Samira Spatzek (Bremen)
"Let's Play 'Colonization': Video Games, Performance, and Absences of Enslavement"
15:30 Coffee
16:00 David Callahan (Aveiro)
"The Last of the U.S.: The Game as Geography"
16:30 Sabrina Mittermeier (Munich)
"Narrative Placemaking and the Question of Authenticity"
Saturday, April 28
10:00 Coffee
10:30 Jon Adams (Freiburg)
"Why We Play Role-playing Games"
11:00 Nathalie Aghoro (Eichstätt)
"Unspoken Adventures: Nonverbal Gameplay and Narrative In/determinacy in Independent Video Games"
11:30 Alexander Lehner (Augsburg)
"Ecocritical Metagames"
12:00 Lunch
14:00 Stefan Schubert (Leipzig)
"'Are You Playing Some Kind of Game With Me?' Narrative Instability and Metatextuality in Contemporary Video Games"
14:30 Andrei Nae & Alexandra Bacalu (Bukarest)
"The 18th Century Novel as a Model for Understanding Immersion in Classical Survival Horror Video Games"
15:00 Doug Stark (Chapel Hill, NC)
"Turn Page to Read: Ready Player One and the Role of the Video Game Novel"
15:30 Coffee
16:00 Gerald Farca (Augsburg)
"The Phenomenology of Playing US-American Dystopias: Fallout 4"
16:30 Rudolf Inderst (Passau)
"Wolfenstein: The New Order as a Playful Continuation of Dystopian Narrative Traditions"
17:00 Manuel Franz & Henning Jansen (Heidelberg)
"A Shining City Above a Hill? American Exceptionalism and Historical Guilt in Bioshock Infinite"
Sunday, April 29
9:00 Coffee
9:30 Dietmar Meinel (Duisburg-Essen)
"Playing the Urban Future: Movement, Space, and Cityscapes in Mirror's Edge (2008) and Mirror's Edge Catalyst (2016)"
10:00 Patricia Maier (Munich)
"On a Walk – The Concept of Movement in Video Games"
10:30 Damien B. Schlarb (Mainz)
"Breaking It Is Part of the Fun: Glitches as Part of Gameplay, Narrative, and Interface Design in Video Games"
11:00 Coffee
11:30 Veronika Keller (Munich)
"Music and Emotion – Mozart's 'Requiem' in Video Games"
12:00 Jacqueline Blank (Munich)
"The Art of BioShock Infinite: Identity, Race, and Manifest Destiny"
12:30 Wrap-up, end of conference
Call for Papers
The highly diverse field of Video Game Studies has firmly established itself on the academic scene in the last decades as a truly interdisciplinary conglomerate that draws on the discourses of media studies, design, programming, literary and cultural studies, anthropology, philosophy, sociology, and numerous other disciplines without fusing them into a singular streamlined approach. American Studies, an equally diverse discipline in itself, has provided a crucial (if not unproblematic) context in the constitution of Video Game Studies, and while the latter has certainly emancipated itself from any particular dependency, the two fields have now entered a productive dialogue in which they influence and speak to each other rather than struggle for hegemony of interpretation over a particular cultural field. This relationship is both budding and tenuous, as American Studies has only gradually turned its attention to video games even though the medium has grown in the last few decades from a niche phenomenon to a cultural industry that is arguably the most important force in American popular culture today. Yet research on this crucial topic in the institutional framework of American Studies is often either local or even personal, with no substantial wider network for scholars to participate and collaborate in.
This conference sets out to change that and provide the first opportunity for scholars in American Studies working on video games to connect, share their research results, workshop their projects, and start building a network that so far exists in separate clusters at best. At the same time, the conference also sets out to discuss the particular perspectives that American Studies with its highly diverse toolbox of theoretical and practical approaches may bring to the analysis of video games, and how in turn other approaches to video games (and the games themselves) affect and change these established theories and methods. Papers may draw on the rich repertoire of American Studies – ranging from strategies of close reading to queer theory, from feminist analyses to ecocritical approaches, from myths and symbols to postnationalism — and may re-read this repertoire as it is modified by Video Game Studies and its unique approaches to notions such as performativity, embodiment, intermediality, narrativity, interaction, and many more.
Scholars are therefore invited to submit proposals that critically explore these interconnections. This may occur on an entirely theoretical level or through a detailed analysis of a single game, from a historical perspective or a political or economic one, focusing on gameplay mechanics, narrative immersion or their respective subversion; considering the global video game market or local contexts of production, reception and criticism; delving into the frameworks of technology and coding; interrogating the production of virtual and real spaces and places; highlighting the interplay of image, music, sound, touch, movement, and text; inquiring into notions of community and dissent among gamers; tracing the impact of video games as high, popular, and unpopular cultures; or describing the pedagogical use of video games or the sociopolitical controversies around them. Anything is fair game: hardware and software and wetware; casual and hardcore; e-sports and streaming; mobile and stationary; PC and console; retro and contemporary; AAA and indie; achievements and high scores; gamification and metagaming; cheating and modding; WASD and controller; VR and flatscreen; and anything in between. It's dangerous to go alone, so let's explore together how video games can play the field of American Studies.
Organizer: Sascha Pöhlmann, poehlmann@lmu.de.
Downloads