Recent Publications since 2011
Sascha Pöhlmann. Stadt und Straße: Anfangsorte in der amerikanischen Literatur. Bielefeld: transcript, 2018.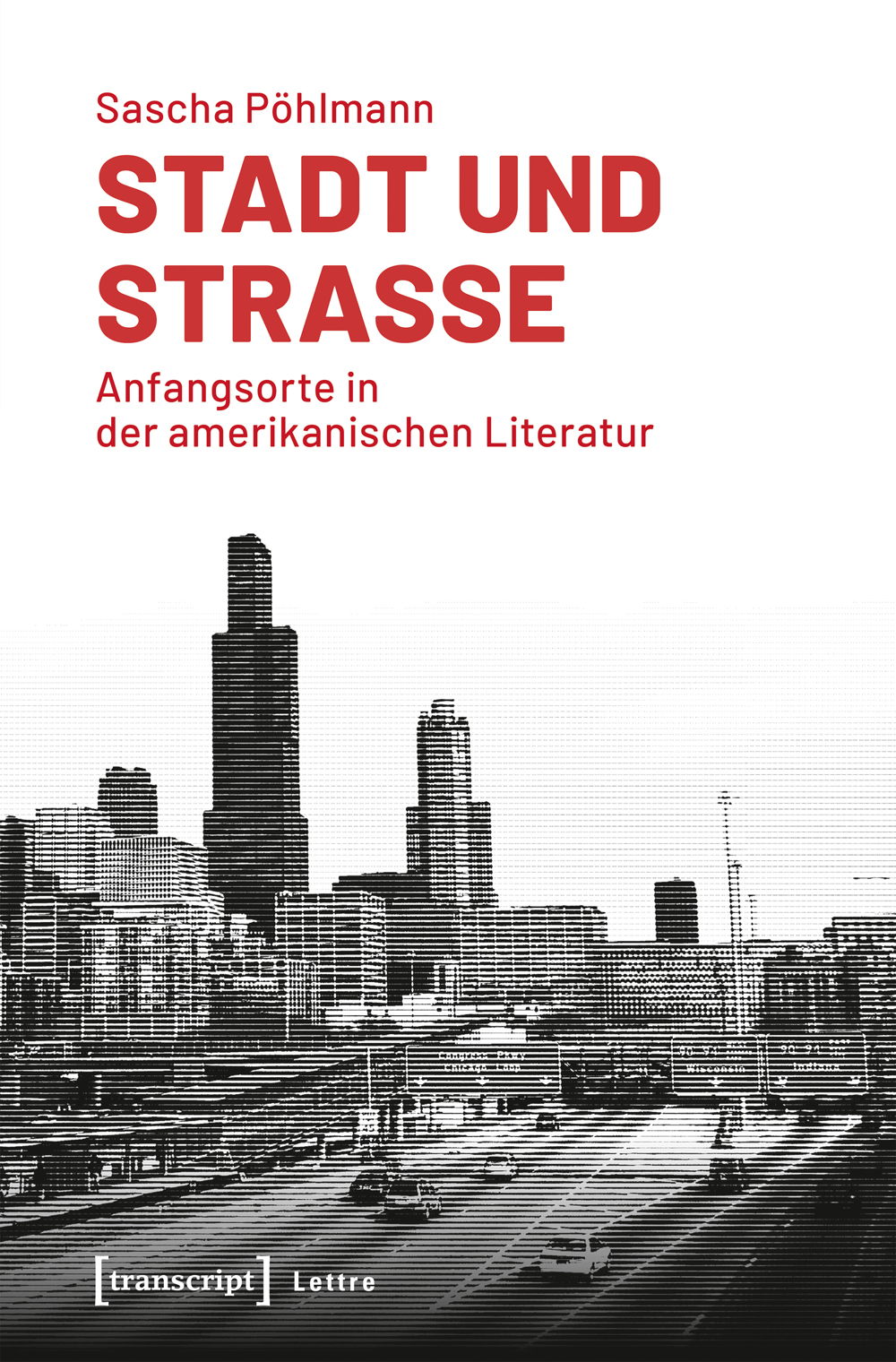 Stadt und Straße – wie und warum werden gerade diese Orte oft zu außergewöhnlichen literarischen Anfangsorten gemacht?
Sascha Pöhlmann wendet sich in doppelter Absicht an ein Publikum, das sich für US-amerikanische Literatur (etwa von Walt Whitman, Don DeLillo, Jack Kerouac oder Kathy Acker) interessiert, aber nicht den akademischen Fachdiskurs verfolgt. Erstens will er dieser Leserschaft ein Konzept nahebringen, das zentral für die amerikanische Kulturgeschichte ist: nämlich die Idee des Anfangs. Zweitens will er dadurch eine neue Perspektive auf bekannte Klassiker der amerikanischen Prosa eröffnen und zugleich weniger bekannte, aber nicht minder bedeutsame Texte erschließen.
Uwe Lübken, Martin Knoll and Dieter Schott eds., Rivers Lost, Rivers Regained: Rethinking City-River Relations. Pittsburgh, PA: Pittsburgh University Press 2017.
Many cities across the globe are rediscovering their rivers. After decades or even centuries of environmental decline and cultural neglect, waterfronts have been vamped up and become focal points of urban life again; hidden and covered streams have been daylighted while restoration projects have returned urban rivers in many places to a supposedly more natural state. This volume traces the complex and winding history of how cities have appropriated, lost, and regained their rivers. But rather than telling a linear story of progress, the chapters of this book highlight the
ambivalence of these developments.
The four sections in Rivers Lost, Rivers Regained discuss how cities have gained control and exerted power over rivers and waterways far upstream and downstream; how rivers and floodplains in cityscapes have been transformed by urbanization and industrialization; how urban rivers have been represented in cultural manifestations, such as novels and songs; and how more recent strategies work to redefine and recreate the place of the river within the urban setting.
At the nexus between environmental, urban, and water histories, Rivers Lost, Rivers Regained points out how the urban-river relationship can serve as a prime vantage point to analyze fundamental issues of modern environmental attitudes and practices.
Klaus Benesch and François Specq, eds. Walking and the Aesthetics of Modernity: Pedestrian Mobility in Literature and the Arts. Basingstoke: Palgrave Macmillan, 2016.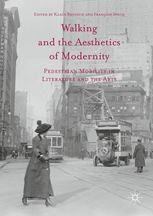 This book gathers together an array of international scholars, critics, and artists concerned with the issue of walking as a theme in modern literature, philosophy, and the arts. Covering a wide array of authors and media from eighteenth-century fiction writers and travelers to contemporary film, digital art, and artists' books, the essays collected here take a broad literary and cultural approach to the art of walking, which has received considerable interest due to the burgeoning field of mobility studies. Contributors demonstrate how walking, far from constituting a simplistic, naïve, or transparent cultural script, allows for complex visions and reinterpretations of a human's relation to modernity, introducing us to a world of many different and changing realities.
Martin Lüthe and Sascha Pöhlmann, eds. Unpopular Culture. Amsterdam: Amsterdam University Press, 2016.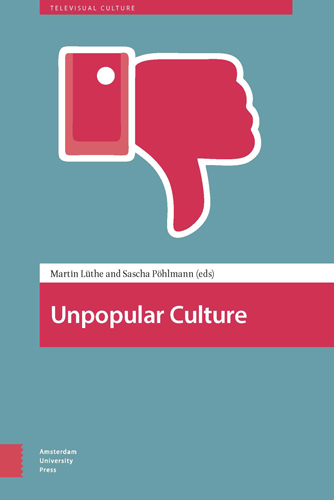 This collection includes eighteen essays that introduce the concept of unpopular culture and explore its critical possibilities and ramifications from a large variety of perspectives. Proposing a third term that operates beyond the dichotomy of high culture and mass culture and yet offers a fresh approach to both, these essays address a multitude of different topics that can all be classified as unpopular culture. From David Foster Wallace and Ernest Hemingway to Zane Grey, from Christian Rock and Country to Black Metal, from Steven Seagal to Genesis (Breyer) P-Orridge, from K-pop to The Real Housewives, from natural disasters to 9/11, from thesis hatements to professional sports, these essays find the unpopular across media and genres, and they analyze the politics and the aesthetics of an unpopular culture (and the unpopular in culture) that has not been duly recognized as such by the theories and methods of cultural studies.
You can download the editors' introduction as a PDF here.
Michael Hochgeschwender. Die amerikanische Revolution: Geburt einer Nation: 1763 - 1815. München: C.H. Beck, 2016

Wer die USA verstehen will, muss zu ihrem Ursprungsmythos zurückgehen: zur Amerikanischen Revolution.
Mit der Boston Tea Party begann 1763 der Aufstand gegen die britische Kolonialherrschaft. Die Geburt der amerikanischen Nation erfolgte in zähen Schlachten. Sie sah menschliche Abgründe an Verrat und Grausamkeit, aber auch selbstlose Heldentaten und die hehren Ideale der Unabhängigkeitserklärung vom 4. Juli 1776. Erst im britisch-amerikanischen Krieg von 1812 bis 1815 fand sie ihren Abschluss. Michael Hochgeschwender erzählt diese dramatische Geschichte und zeichnet ein neues Bild der Revolution, das auch die Perspektive der Briten berücksichtigt.
Bärbel Harju mit Karsten Fitz. Eds. Cultures of Privacy. Paradigms, Transformations, Contestations. Heidelberg: Winter, 2015.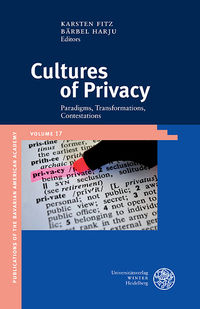 America has been hailed as the land of personal freedom, where the rights of the single citizen reign over the demands and expectations of the masses. Yet freedom of choice and the premium placed on private property also necessitated a counter force, a submission to authority, and pre-established patterns of behavior. And it led to a highly ambivalent notion of privacy, as an individual right situated between apparent opposites – private freedom and public order, liberalism and authoritarianism, (individual) autonomy and (communal) collectivity.
'Cultures of Privacy – Paradigms, Transformations, Contestations' addresses the nation's struggles to harmonize these opposites, to reconcile the private and the public, both in a historical and comparative, transnational perspective. Individual contributions take issue with the staggering transformations of the public/private dichotomy, with the alleged erosion of privacy in the political arena, the "right to be let alone" in US legal culture, and the ambiguous hyperemphasis on the private in the media and in popular and literary culture (as in confessional blogs, social networks, and memoirs).
Sascha Pöhlmann. Future-Founding Poetry: Topographies of Beginnings from Whitman to the Twenty-First Century. Rochester, NY: Camden House, 2015.
Although issues of futurity have become more and more central to literary and cultural studies in recent years, especially in environmental criticism, no scholarly work has yet addressed the topic of beginnings in American poetry in sufficient scope or detail or with adequate theoretical background. This book is a study of how beginnings are made in American poetry. It borrows Walt Whitman's term "future-founding" to establish a theory of poetic beginnings that asks how poetry relates to notions of the future and how it imagines, constructs, and influences this future in the present. Furthermore, it seeks to change the way literary scholars think about futurity with regard to American poetry: they most often conceive of it in terms of newness alone, yet a deeper theorization of beginnings must open up new ways of understanding the complexities of this relation. With chapters on Whitman, William Carlos Williams, Langston Hughes, Muriel Rukeyser, Allen Ginsberg, and future-founding poetry after 9/11, this book explains how American poetry makes its beginnings, with what means and to which political and aesthetic ends, and how it addresses fundamental questions about the nature of futurity itself.
Julius Greve and Sascha Pöhlmann, eds. America and the Musical Unconscious. New York: Atropos Press, 2015.
Music occupies a peculiar role in the field of American Studies. It is undoubtedly recognized as an important form of cultural production, yet the field continues to privilege textual and visual forms of art as its objects of examination. The essays collected in this volume seek to adjust this imbalance by placing music center stage while still acknowledging its connections to the fields of literary and visual studies that engage with the specifically American cultural landscape. In doing so, they proffer the concept of the 'musical unconscious' as an analytical tool of understanding the complexities of the musical production of meanings in various social, political, and technological contexts, in reference to country, queer punk, jazz, pop, black metal, film music, blues, carnival music, Muzak, hip-hop, experimental electronic music, protest and campaign songs, minimal music, and of course the kazoo.
With contributions by Hanjo Berressem, Christian Broecking, Martin Butler, Christof Decker, Mario Dunkel, Benedikt Feiten, Paola Ferrero, Jürgen Grandt, Julius Greve, Christian Hänggi, Jan Niklas Jansen, Thoren Opitz, Sascha Pöhlmann, Arthur Sabatini, Christian Schmidt, Björn Sonnenberg-Schrank, Gunter Süß, and Katharina Wiedlack.
Christof Decker and Astrid Böger, eds. Transnational Mediations: Negotiating Popular Culture between Europe and the United States. Heidelberg: Winter, 2015.
In the 20th and 21st centuries, American media have been continually received, adapted, and transformed by European cultures. Initially based on the competition among the early film industries and continuing with today's global dominance of American web-based companies, these productive exchanges entail complex economic, aesthetic, and cultural negotiations. The dynamic and scope of these negotiations has been ambiguous, ranging from instances of cultural imperialism to the subversion of social and cultural hierarchies. More often than not, they have furthered the exchange of creative ideas and the cross-fertilization of media and art productions. This publication highlights core arenas of transnational cultural encounters including photography, film, fashion, advertising, television, and the new media. It asks not merely how American media productions were received in different European cultural contexts but how they shaped the idea of distinct yet interconnected European identities.
With contributions by William Uricchio, Frank Mehring, Astrid Böger, Anneke Smelik, Maaike Feitsma, Hilaria Loyo, Juan A. Suárez, Gilles Menegaldo, Agnieszka Soltysik Monnet, Ralph J. Poole, Philip Schlesinger, Melvyn Stokes, Christof Decker, Tomáš Pospíšil.
Ursula Prutsch. Eva Perón. Leben und Sterben einer Legende. Eine Biographie. München: C.H.Beck, 2015.
"Don't cry for me, Argentina" – durch ihren frühen Tod wurde Eva Perón zur Legende. Andrew Lloyd Webber widmete ihr ein Musical, Madonna verkörperte sie im Kino. Ursula Prutsch erzählt das kurze, aber intensive Leben einer starken Frau aus einfachen Verhältnissen, die zum weltweiten Mythos wurde, und führt dabei zugleich ein in die Geschichte des modernen Argentinien.
Mit nur 33 Jahren starb "Evita" an Krebs. Trotzdem ging die Gattin des argentinischen Präsidenten Juan Perón als mächtigste Frau Lateinamerikas in die Geschichte ein. Für die einen war sie Feministin, Wohltäterin der Armen und Heilige der Arbeiter, für die anderen eine machtgierige, berechnende Aufsteigerin, die Mildtätigkeit als bloße Show inszenierte. Zur Politik Eva Peróns gehörte es auch zu polarisieren und mit Emotionen zu regieren. Dadurch prägte sie den peronistischen Populismus entscheidend mit. Ursula Prutsch legt nun die erste wissenschaftlich fundierte deutschsprachige Biographie dieser modernen Kunstikone vor.
Britta Waldschmidt-Nelson. Malcolm X. Der schwarze Revolutionär. München: C.H. Beck, 2015.
Malcolm X zählt zu den bekanntesten und umstrittensten Personen der amerikanischen Geschichte. Gnadenlos prangerte er den weißen Rassismus seiner Zeit an und trat für das Recht der Schwarzen auf bewaffnete Selbstverteidigung ein. Britta Waldschmidt-Nelson legt zum 50. Jahrestag seiner Ermordung die erste auf Deutsch verfasste Biographie vor. Bis heute werden die USA in regelmäßigen Abständen von Rassenunruhen erschüttert – ein Phänomen, das ohne die lange Geschichte des amerikanischen Rassismus nicht zu verstehen ist. Wohl kein anderer hat sich so radikal und sprachgewaltig für die Rechte der Schwarzen eingesetzt wie Malcolm X, der als "der zornigste Mann Amerikas" galt. An seinem Beispiel führt dieses Buch in die afroamerikanische Geschichte und den Kampf der schwarzen Bürgerrechtsbewegung ein. Dabei stützt es sich auf die neueste Forschung und neu erschlossenes Quellenmaterial sowie auf Gespräche mit Weggefährten und Angehörigen.
Georgiana Banita and Sascha Pöhlmann, eds. Electoral Cultures: American Democracy and Choice. Heidelberg: Winter, 2015.
Presidential elections are essential to US culture, shaping the nation's stability and global influence. This volume is the first to establish an interdisciplinary platform for a broad investigation of election mechanics and legacies. Historians, political scientists, literary scholars, and cultural theorists shed light on the narratives of election successes and failures. Beginning with the struggle for voting rights and extending to current representations of candidates and campaigns, Electoral Cultures examines elections as complex cultural phenomena. Analyzing political processes and personalities from Lincoln to Obama, the chapters query assumptions about democracy in the United States. The resulting survey significantly alters how we perceive the paradoxical American ideals of equality, individualism, and authenticity. In its sweeping scope and rich detail, the book opens up an incisive new scholarly field concerned with US political culture and its place in the world today.
Ursula Prutsch und Enrique Rodrigues-Moura. Brasilien. Eine Kulturgeschichte. Schriftenreihe (Bd. 1460). Bonn: bpb, 2014.
Warum bestimmt so oft eine eigenwillige Mischung aus Wissen und Klischees das Bild von Brasilien? Die schiere Größe des Landes, die Geschichte seiner Besiedlung, die spannungsreichen Beziehungen zu den europäischen Mächten, der Reichtum an Rohstoffen und Bodenschätzen – all dies hat auf je eigene Weise die Entwicklung Brasiliens bis in unsere Zeit bestimmt und die brasilianische Kultur geprägt. So setzt diese Kulturgeschichte im Zeitalter der "Entdeckungen" ein, das für Brasilien eines der Ausbeutung und Unterdrückung war. Ursula Prutsch und Enrique Rodrigues-Moura beschreiben den beschwerlichen Weg, auf dem sich das Land von wirtschaftlich, ethnisch oder religiös motivierter Vorherrschaft löste und über die Einwanderungsbewegungen der Neuzeit zum Schmelztiegel kultureller Strömungen wurde. Sie beleuchten neben den kulturellen auch die neueren politischen und sozialen Entwicklungen in Brasilien, seine atemberaubende Dynamik und die Schattenseiten der Globalisierung.
Maha El Hissy and Sascha Pöhlmann, eds. Gründungsorte der Moderne: Von St. Petersburg bis Occupy Wall Street. Paderborn: Fink , 2014.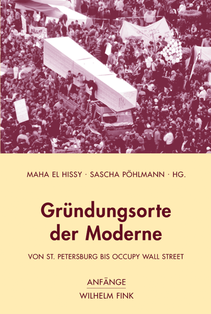 Was ist ein Gründungsort? Wie werden solche Orte gemacht und gepflegt? Was für Geschichten werden mit ihnen erzählbar und für wen? Welche Widerstände oder Widersprüche fordern sie heraus?
Der Band präsentiert die Ergebnisse des internationalen Abschlusssymposiums der Forschergruppe »Anfänge (in) der Moderne« an der LMU München. Die Beiträge befassen sich mit fiktiven wie realen Gründungsorten des 19. bis 21. Jahrhunderts. Ob St. Petersburg, Jerusalem, Washington/D.C. und Florenz oder die Künstlerkolonien in der Bretagne, die Inseln der Südsee und die Occupy-Camps oder aber auch Tlön, Wolkenkuckucksheim und der literarische Spaziergang – die Anfänge sind so vielfältig wie die Orte, an denen sie stattfinden. Die Autoren betrachten diese gemeinsame Konstruktion von Anfang und Ort in verschiedenen Medien in Hinblick auf ihre symbolische, politische, historische, kulturelle und ästhetische Bedeutung.
Klaus Benesch and Miles Orvell, eds. Rethinking the American City: An International Dialogue. Philadelphia, PA: University of Pennsylvania Press, 2013.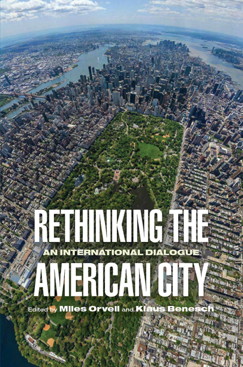 Whether struggling in the wake of postindustrial decay or reinventing themselves with new technologies and populations, cities have once again moved to the center of intellectual and political concern. Rethinking the American City brings together leading scholars from a range of disciplines to examine an array of topics that illuminate the past, present, and future of cities.
Rethinking the American City offers a lively and fascinating survey of contemporary thinking about cities in a transnational context. Utilizing an innovative format, each chapter opens with an iconic image and includes a brief and provocative essay on a single topic followed by an extended dialogue among all the essayists. Topics range from energy use, design, and digital media to transportation systems and housing to public art, urban ruins, and futurist visions. By engaging with key contemporary concerns—public and private space, sustainability, ethnic and racial divisions, and technology—this volume illuminates how global society has imagined American urban life.
Contributors: Klaus Benesch, Dolores Hayden, David M. Lubin, Malcolm McCullough, Jeffrey L. Meikle, David E. Nye, Miles Orvell, Andrew Ross, Mabel O. Wilson, Albena Yaneva.
Klaus Benesch, ed. Culture and Mobility. Heidelberg: Winter, 2013.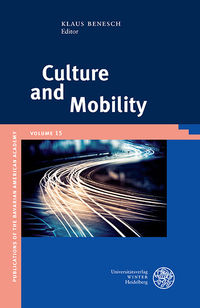 What connects the Baltimore Washington International Airport and South Korea's Songdo International Business District? What are the cultural narratives that unfold from their bold visions of mobility and of the city in transit and transition? Put another way, what are the relations between modernity, mobile lifestyles, and urban spaces as we move deeper into what the French sociologist Marc Augé has called the age of 'supermodernity'? Perhaps more importantly, are there alternative ways of thinking about mobility and the future of society in a rapidly shrinking, globally interconnected and, at the same time, socially and culturally divided world?
In their wide-ranging contributions geographers, political scientists, historians, economists, and cultural critics take a closer look at mobility in an American context (and beyond). Investigating aspects of American mobility from a decidedly transnational and transatlantic perspective, these essays conjoin in revealing mobility as a crucial constituent of what we call modernity. They also identify some of the negative consequences and challenges of mobility in an increasingly endangered global ecology.
Sascha Pöhlmann, ed. Revolutionary Leaves: The Fiction of Mark Z. Danielewski. Newcastle upon Tyne: Cambridge Scholars Publishing, 2012.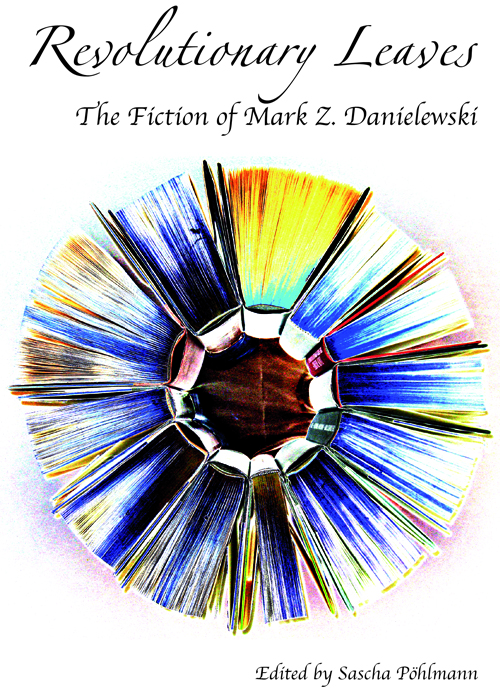 Mark Z. Danielewski is routinely hailed as the most exciting author in contemporary American literature, and he is celebrated by critics and ans alike. Revolutionary Leaves collects essays that have come out of the first academic conference on Danielewski's fiction that took place n Munich in 2011, which brought together younger and established cholars to discuss his works from a variety of perspectives. Addressing his major works House of Leaves (2000) and Only Revolutions (2006), the texts are as multifaceted as the novels they analyze, and they incorporate ideas of (post)structuralism, modernism, post- and post-postmodernism, philosophy, Marxism, reader-response criticism, mathematics and physics, politics, media studies, science fiction, gothic horror, poetic theory, history, architecture, mythology, and more.
With contributions by Nathalie Aghoro, Ridvan Askin, Hanjo Berressem, Aleksandra Bida, Brianne Bilsky, Joe Bray, Alison Gibbons, Julius Greve, Sebastian Huber, Sascha Pöhlmann, and Hans-Peter Söder.
Michael Hochgeschwender (Hg.). Epoche im Widerspruch: Ideelle und kulturelle Umbrüche der Adenauerzeit (Rhöndorfer Gespräche, Band 25). Bouvier: Bonn , 2011 .
Das 25. "Rhöndorfer Gespräch" der Stiftung Bundeskanzler-Adenauer-Haus fand unter der Überschrift "Epoche im Widerspruch. Ideelle und kulturelle Umbrüche der Adenauerzeit" statt. Auf der Grundlage des aktuellen Forschungsstandes wurden Kultur und Geistesleben der frühen Bundesrepublik neu vermessen. Dabei konzentrierte sich die Tagung nicht nur auf die intellektuellen Diskurse über Politik und Gesellschaft, sondern deckte auch bemerkenswerte Umbrüche im deutschen Katholizismus der Adenauer-Jahre auf, untersuchte den Zusammenhang zwischen Populärkultur und sozialem Wandel oder widmete sich – am Beispiel der documenta-Ausstellungen – der Rehabilitierung und Rekonstruktion der modernen Kunst. Auf diese Weise entstand das facettenreiche Bild einer ebenso dynamischen wie spannungsreichen Epoche, die viel stärker von Veränderung geprägt war als von Stillstand oder gar Restauration.
Michael Hochgeschwender und Bernhard Löffler (Hg.). Religion, Moral und liberaler Markt. Politische Ökonomie und Ethikdebatten vom 18. Jahrhundert bis zur Gegenwart. Bielefeld: Transcript, 2011.
Seit Beginn des kapitalistischen Wirtschaftens wird nach einer ethisch-religiösen Begründung des liberalen Marktgeschehens gesucht. Mit dem Siegeszug des Neoliberalismus nach 1989/90, seinen Krisensymptomen der letzten Jahre sowie der Revitalisierung des Religiösen in der jüngsten Zeit stellt sich das Problem in besonders aktueller Weise.
Die Beiträge des Bandes gehen diesen Zusammenhängen nach. Sie spannen einen Bogen von den sozialphilosophischen Analysen Adam Smiths bis hin zu zeitgenössischen marktradikalen Überlegungen und zeigen, dass auch Religion selbst längst zum Markt- und Medienprodukt geworden ist.
Barbara Hahn and Meike Zwingenberger, eds. Global Cities – Metropolitan Cultures: A Transatlantic Perspective. Heidelberg: Winter, 2011.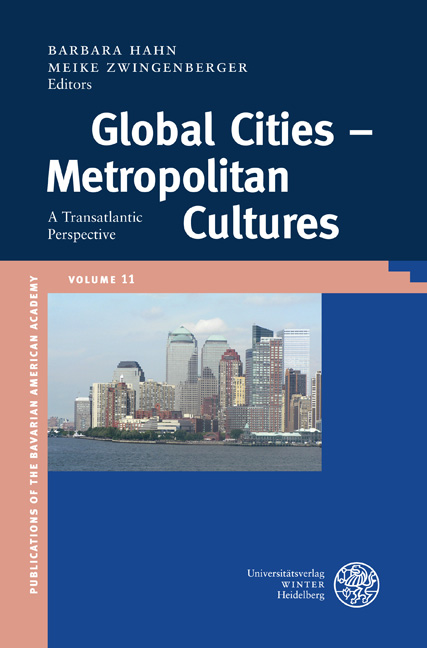 Globalization and urban networks are not a new phenomenon, but have gained momentum since the 1980s. The domination of capital over labor, the restructuring of employment, the polarization of class division and political conflicts have created an urban hierarchy with cities like Tokyo, Los Angeles, San Francisco, New York, London, and Paris at the top. However, smaller cities located in the semi-periphery form important links in the global network as well. In this volume authors with backgrounds in different fields of research such as geography, sociology, history, and political science look at global cities from various angles. The hierarchy of global cities and the restructuring process within global cities, public policy and urban politics, the rising vulnerability, urban governance, the political sector in Washington, DC, the assimilation of different migrant populations, and the culture of Dancehall Reggae are being discussed.
With contributions by Barbara Hahn, Susan S. Fainstein, Susan E. Clarke, Roger Keil, Karsten Zimmermann, Ulrike Gerhard, Kathleen Neils Conzen, Werner Zips, Caroline Nagel and Lynn Staeheli